St. Joseph Celebration
We celebrated the Feast of St. Charles Lwanga, the patron saint of Youth and Catholic Action in tropical Africa, at the 4:30 Mass on Saturday, June 1. Special music was provided by the St. Katherine Drexel choir. The choir is a wonderful African choir that will sing in English, Lingala, and Swahili. The Mass will be followed by a special potluck meal with African food and fried chicken.
Here are some pictures of the Pot Luck dinner taken by our parishioner Mike Collins:
History
Charles Lwanga is the patron of youth and Catholic action in most of tropical Africa. Charles was born in the Kingdom of Buganda, the southern part of modern Uganda. He served as chief of the royal pages in the court of King Mwanga II. He was baptized on 15 November 1885.
As part of the king's effort to resist foreign colonization, the king insisted that Christian converts abandon their new faith, and executed many Anglicans and Catholics between 1885 and 1887.
Lwanga and the royal pages declared their fidelity to Christianity, upon which the king condemned them to death, directing that they be burnt alive.
Twelve Catholics and nine Anglicans were then burnt alive. As he was being burnt, Charles, "It is as if you are pouring water on me. Please repent and become a Christian like me."
Pope Paul VI canonized Charles Lwanga and the other Catholics during his visit to Uganda in 1964. The Basilica of the Uganda Martyrs was built at the site of the executions and serves as their shrine.
Prayer to St. Charles Lwanga and Companions
Eternal Father, I wish to honor
St Charles Lwanga and Companions
and I give You thanks
for all the graces You have bestowed on them.
I ask You to please increase grace in my soul
through the merits of these saints,
and I commit the end of my life to them
by this special prayer,
so that by virtue of Your goodness and promise,
St Charles Lwanga and Companions
might be my advocates and
provide whatever is needed at that hour.
Amen.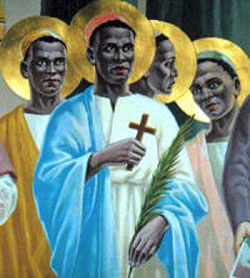 Total Page Visits: 1353 - Today Page Visits: 1